WCB-30 MODEL BENCH TOP BALANCING MACHINE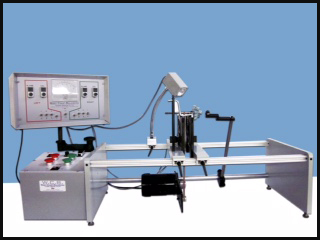 The WCB-30 is manufactured with reliable solid-state electronics, lightweight workpiece carriers, permanent magnet DC motor drive system, linear analog meter, and adjustable support bars. The WCB-30 can handle small and large parts (see photos).

WCB-30 Model Specifications:
Weight Capacity- 1/2 oz. - 30 lbs.
Max Swing Diameter- 22 Inches
Min Distance Between Bearings- 1 Inch
Max Distance Between Bearings- 30 Inches
Sensitivity- 0.000,020" (P-P)
Balance Speed Range- 500 - 2500 RPM
Motor Drive- DC
Total Power Requirements- 4A @ 110V 60 HZ
Workplace Bearing Diameters- 1/4 - 3 Inch
Approximate Shipping Weight- 300 lbs.